My mom says clothes look good on me.
A+ for both examples of mayors "leading" involving strikebreaking!
Posted on December 2, 2013 at 2:10 pm
0
Just chiming in here to agree with Polly, because this letter did really speak to my history. My girlfriend my junior and senior year of college was unmedicated bipolar who had been hospitalized in high school; as is often the case with dating bipolars, when she was up it was amazing and fun and when she was down (which was a larger and larger portion of the time as our relationship wore on) she didn't want to do anything but stay home and didn't want to spend time with anybody but me, and I if I wanted to leave the apartment or hang out with anyone else it was basically the worst thing I could do to her. I wanted to end things after about a year but was terrified that dumping her would cause her to go completely off the rails. So I handled it terribly: I got into a grad school on the other coast, we had a short "well I guess it's going to be done when I graduate" conversation (she was a couple years behind me), then continued living in denial/couplehood for the next six months and I studiously deflected any hints she might drop about moving out to California with me (going so far as to sign up for a shitty university-owned graduate apartment specifically because I was forbidden in the lease from having anyone live with me).
And you know what happened after I snuck out of town? She got her shit together, got on good meds, changed her majors and got on an entirely new career path to which she's better suited, met somebody new and eventually married and had kids. She was fine. Meanwhile, I spent the next 2-3 years failing at academia, romance, social life, and adulthood, all things that I had been very certain that I was going to be great at once I no longer had this troubled girlfriend and co-dependent relationship "holding me back." She said to me, when she wrote me to tell me she was seeing someone, that she had always known that she'd get into a new relationship before I did. It turned out, really, that it wasn't about me, or mostly wasn't about me; she was just in a really shitty place and I was the one she was dating at the time. I don't want to go so far as to say that me dumping her was the catalyst she needed to get her life in order, because that too probably would be giving me too much credit. Who knows, maybe things would've gotten better for her if we had stayed together. But my dumping her was certainly not the terrible hammer blow that I narcissistically assumed it would be.
Posted on November 26, 2013 at 1:28 pm
6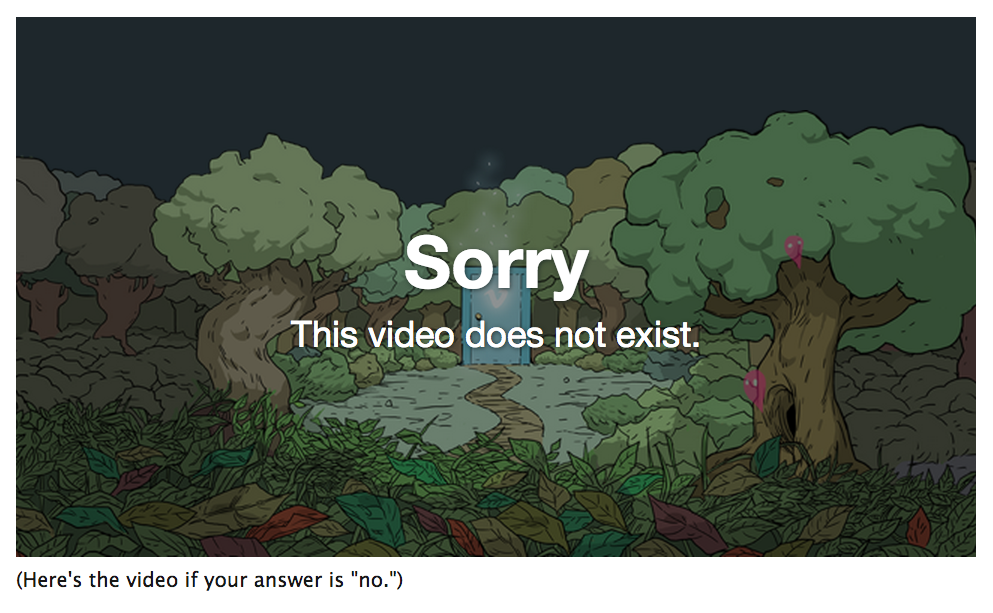 GOOD WORK EVERYONE WE ERASED IT FROM THE TIMESTREAM
Posted on November 4, 2013 at 12:10 pm
5
@stuffisthings @deepomega ok FINE I guess haven't read it since I was, I think, 19? maybe it's better in my memory than it actually was.
Posted on October 31, 2013 at 10:26 pm
0
@Niko Bellic To be fair, Game of Thrones isn't a stupid version of the book at least in part because it's 30 hours (and counting!) long. It's actually really, really hard to compact everything that happens in a reasonably smart book (which, despite my embarassment over youthful OSC fandom, I still consider Ender's Game to be) into 150 minutes! Especailly when there are contractually obligated space battles! I read somewhere that the writers of The Wire thought of each 12-episode season as about a novel's worth of material, which sounds about right to me.
Posted on October 31, 2013 at 2:05 pm
0
I heard they actually spoil the movie in the movie? As in, the thing that was a super surprise at the end of the book is revealed much earlier in the story in the movie.
Posted on October 31, 2013 at 12:48 pm
0
Just want to point out to the Chosen People reading that in addition to Thanksgiving fun/crisis, we also have an ultra-early Hanukkah this year, so if you're looking to see the usual arguments added to with, say, your liberal dad needling your Zionist grandmother by explaining that the Maccabees and PLO have a lot of the same tactics, 2013 is your year!
Posted on October 23, 2013 at 11:26 am
1
@Clarence Rosario SEARCH YOUR FEELINGS, YOU KNOW IT TO BE TRUE
Posted on October 22, 2013 at 10:30 am
1
"denied reports Tuesday that he had a kinky 17-minute sex romp with a woman in the unisex bathroom"
"It was a ladies room, and it was 6 minutes of extremely vanilla intercourse"
Posted on October 16, 2013 at 10:57 am
2
@stuffisthings the EU rule is that if you are an EU citizen living in another EU country (and this is something you can do easily, thanks to freedom-of-movement agreements), you can vote in local elections and for the local member of the European parliament, but you can't vote in the national elections in your place of residence, which seems like a kind of weird distinction, but there it is. EU are under no obligation to let non-EU nationals vote.
More intriguing to me is that, as a relic of the British Empire, if you are a citizen of any member of the Commonwealth of Nations or Ireland and are a permanent resident of the UK, you are allowed to vote in national or local UK elections (but not in EU elections, unless you're a citizen of an EU country. QUIZ: Which two EU countries are also part of the Commonwealth? ANSWER: Cyprus and Malta.) The Brits long ago tightened up their immigration policy so it's not like people from Nigeria or Pakistan can just show up in the UK and be welcomed, but if you jump through the hoops of the immigration process you can vote without taking UK citizenship.
Posted on October 9, 2013 at 3:00 pm
0